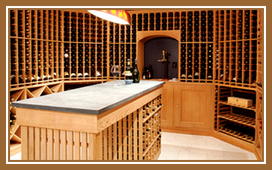 Everybody loves a fine glass of wine, perhaps with their dinner or while socializing with friends. These days, people want to take it a step further by actually building a wine cellar right in the comfort of their own home. Because of innovations in the wine industry and the availability of advanced technology, residential wine storage has now been made more convenient and accessible for everyone.
Wine racks are essential for wine collectors who just have a small number of wine bottles and limited space and budget. If you want to invest in a custom wine cellar, a proper wine cooling unit is crucial. Let's understand first the function of a wine cellar refrigeration system.
Wine cooling units are basically cooling systems that you install in your wine cellar to ensure the proper aging and storage of your wine. Wine is a very complex liquid, and it needs everything to be just right in order for it to age in the best way possible.
Maintaining a constant temperature will result in graceful aging of wine. A wine cellar cooling system regulates the temperature level in your wine room, making sure it doesn't fluctuate. If there are constant temperature changes, wine has a tendency to go bad. The best temperature for wine storage is 55-57 degrees Fahrenheit.
Another thing that the wine cooling system controls is humidity. If humidity is too high, the glue on the label of the wine bottle melts and molds grow on the bottle. On the other hand, if the humidity is too low, the wine cork dries up and may crack which can lead to wine leakage and wine faults.
After choosing the wine cellar refrigeration system suited to your needs and budget, it is vital that you have the air duct cleaned regularly to ensure that your cooling unit is working efficiently.
Why Air Duct Cleaning is Important for Wine Cellar Cooling Units
Over the course of time, air ducts can gather dirt, dust, pollen, bacteria, and even dead insects. When these contaminants block your air duct, this can affect the level of the temperature that your wine cellar needs, which can lead to wine spoilage. Aside from this, your wine cooling system might pick up the dirt, allergens, or bacteria from the blockage and carry it into your wine storage room which can potentially harm not only your wine collection, but your health as well.
These are the reasons why it's crucial that you regularly get your air ducts cleaned. It should be a top priority, and it would be best to have it professionally done.
Do you have any questions about wine cellars or wine cabinet refrigeration systems? Please feel free to contact US Cellar Systems at the following numbers:
They serve several wine cellar dealers, builders, architects, designers, and contractors to create the perfect wine cellar environment for both residential and commercial custom wine cellars. Click here to learn more about their products and services.